Days to the Submission Deadline
Important Dates

Submission

Nov. 5, 2018

Notification

20-40 days after the submission

Publication

15-20 days after the final edition

Conference

Dec. 17-19, 2018
Contact Us
Telephone: 021-51098086

Cell Phone: 0086-18101720867

QQ: 2934920393

WeChat: 18101720867
ICAUP2018, ICCIVIL2018 and ICEEES2018 Were Successfully Held During Dec. 17-19, 2018 in Xi'an, China
【Dec. 20, 2018】
ICAUP2018, ICCIVIL2018 and ICEEES2018 have been successfully held during Dec. 17-19, 2018 at Holiday Inn Xi'an Big Goose Pagoda. Scholars and researchers from related research fields at home and abroad have participated in the conference.
During the conference, all the participants actively showed their insights into the conference themes and freely exchanged their ideas and experiences. After the conference, they also joined the interesting tourism well-prepared by the Organizing Committee. Hereby, we extend our sincere gratitude to all the scholars and researchers for their attendance and great support to this conference. ICAUP2019 will be held in Hangzhou, China in 2019. Welcome your participation.
ICAUP2018, ICCIVIL2018 and ICEEES2018 group photo
Weather Forecast of Xi'an, China during the Conference
【Dec. 11, 2018】
The following is the weather forecast of Xi'an, China during the Conference, which will be updated regularly.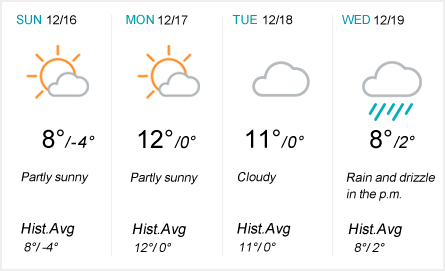 To know more details, please visit:
https://www.accuweather.com/en/cn/xian/106566/weather-forecast/106566
Tourism Route for ICAUP2018 is Available Now
【Nov. 8, 2018】
ICAUP2018 will be held in Xi'an, China, during Dec. 17-19, 2018. Dec. 17, 2018 is the registration time, Dec. 18, 2018 is the keynote session and panel session for the conference, and Dec. 19, 2018 is the time for the tourism. And here is the tourism route on Dec. 19, (from 8:00AM to 17:00PM):
Terracotta Warriors(兵马俑)--- Big Wild Goose Pagoda(大雁塔)---Ancient City Wall(西安明城墙)--- Xi'an Muslim Food Street(回民小吃街)
Learn more: http://www.icaup.org/2018/venue
ICAUP2018 Will Be Held Together with ICEEES2018 and ICCIVIL2018 at the Same Venue
【Nov. 6, 2018】
Due to the relevance among the topics of WCMEE2018, ICEEES2018 and ICCIVIL2018 , as well as the number of the conference participants, ICAUP2018 will be held together with ICEEES2018 and ICCIVIL2018 on Dec. 18, 2018 in the same venue at Holiday Inn Xi'an Big Goose Pagoda.
ICAUP2018 Call for Papers
【Jan. 15, 2018】
2018 3rd International Conference on Architecture and Urban Planning (ICAUP2018) invites original and unpublished papers. The papers may include but are not limited to:
Architecture:
Architectural Design, Architectural Style, Architecture Theory, Architectural Engineering, Building Material, Organic Architecture, Building Economy, Architectural Optics, Construction Equipment;
Urban Planning: Land-use Planning, Conservation Development, Regional Planning, Environmental Design, Recreation Resource Planning, Transportation Forecasting, Community Economic Development, etc.
If you have any interest, please submit your paper via the submission system: http://www.papersubmission.net